The Phil ID or the National ID shall serve as the official government-issued identification document of cardholders in dealing with all national government agencies, local government units (LGUs), government owned or controlled corporations (GOCCs), government financial institutions (GFIs), State Universities and Colleges (SUCs), and all private sector entities.
Phil ID Front Look

Phil ID Back Look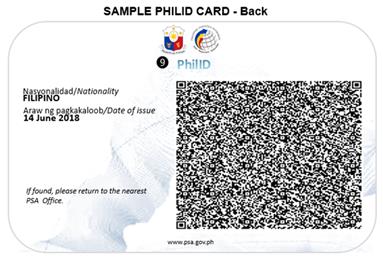 The PhilID shall be the  physical medium issued to convey essential information about the person's identity containing                         on its  face his or her PSN, full name, sex, date of birth, place of birth, blood type, address, marital status (if declared), and a front-facing photograph.
All information appearing in the PhilID should match with the registered information in the PhilSys. The PhilID shall have the QR Code, which contains at least the PSN and any two fingerprint  information. The Phil ID shall also include other security features as safeguards for data privacy and security, and prevention against the proliferation of fraudulent or falsified identification.
The production and security of the PhilID will be at par with technological advances and international standards.
Phil ID Application Fee
The initial application and issuance as well as renewal of the PhilID for citizens shall be free of charge. Renewal shall pertain      to the replacement of the PhilID arising from recapturing or updating of biometric information.